Adam Kirsch Awarded Guggenheim Fellowship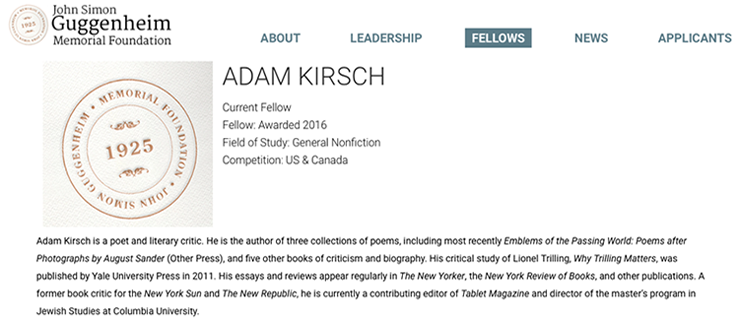 American Studies faculty member Adam Kirsch is one of 178 scholars, artists and scientists who have  won prestigious Guggenheim Fellowships, which are awarded to mid-career scholars and scientists whose work demonstrates "prior achievement and exceptional promise." A poet and literary critic who directs Columbia's master's program in Jewish Studies, Kirsch has been at Columbia since 2010, when he began teaching in the American Studies program. Last year, he became program coordinator of the Institute of Israel and Jewish Studies. He has published three collections of poetry and five books of criticism and biography. His book reviews appear regularly in The New Yorker, New York Review of Books and many other publications.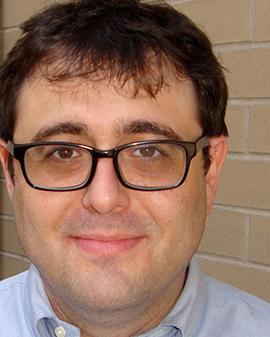 "I am very honored by the news," Kirsch said. "There are so many wonderful writers and scholars whose work has been supported by the Guggenheim, and I'm proud to be among them."
Kirsch is currently working on an edition of the letters of Lionel Trilling (CC'25; GSAS '26,'38) the noted literary critic and former Columbia professor who died in 1975. "The fellowship will help me devote the necessary time to research in Butler Library and other archives where Trilling's letters are held," he said.
This would be his second book on Trilling. In 2011, Kirsch published Why Trilling Matters (Yale University Press), which was reviewed in The Wall Street Journal by historian Jacques Barzun (CC'27; GSAS'28,'32), who was then 103. Barzun, who taught at Columbia for more than 50 years and was its provost, described the volume as "an attractive account of a powerful critic."
Kirsch is currently a contributing editor of Tablet, a daily online magazine of Jewish news, ideas and culture. His editor there, Matthew Fishbane, said, "Away from Twitter and the shoddy distractions of the internet, Adam Kirsch reads." He added that Kirsch's writing is "a bastion of considered thought—eloquent, erudite and generous."