Democracy and Education Conference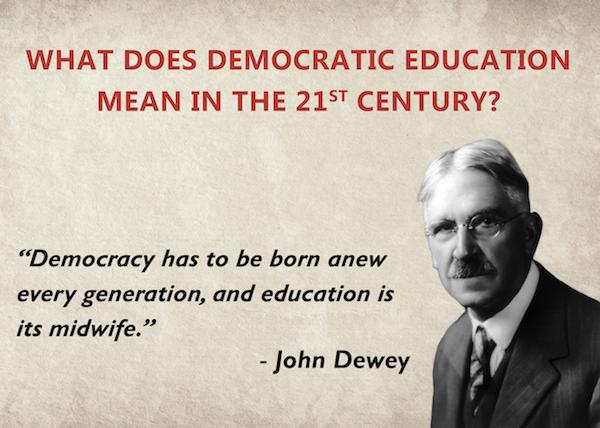 On the centennial of John Dewey's classic Democracy and Education (1916), Columbia's Center for American Studies is sponsoring a day-long conference that will consider Dewey's legacy for twenty-first century civic education. Lectures and sessions will examine contemporary debates  about educational policy, civic engagement programs, education and equality, access to higher education, and the public responsibilities of colleges and universities, among other topics.
Columbia Univeristy Faculty House
W. 116th St. between Amsterdam Ave. and Morningside Dr.
8:30 - 9:00

Light breakfast, coffee, and tea available

9:00 - 9:15

Welcome/Introduction
Casey N. Blake, Columbia University

9:15 - 10:45

Dewey's Legacy for the 21st Century
Chair: Ellen Condliffe Lagemann, Bard College
Anne Durst, University of Wisconsin, Whitewater
Clifford Harbour, University of Wyoming
Jay Kloppenberg, African School for Excellence
Nicholas Tampio, Fordham University

11:00 - Noon

Keynote Lecture: Education is Freedom: Why College Matters
Daniel R. Porterfield, Franklin & Marshall College
Introduction: Roger Lehecka, Columbia University

Lunch Break

1:30 - 2:30

Keynote Lecture: Education and Equality
Danielle Allen, Harvard University
Introduction: Casey N. Blake, Columbia University

2:45 - 4:00

"Great Books" and Civic Education
Chair: Jessica Lee, Columbia University
Bryan Garsten, Yale University
Tamara Mann Tweel, Columbia University
Marina Van Zuylen, Bard College
Dan-el Padilla, Princeton University

4:15 - 5:15

Educating Citizens
Chair: Ira Harkavy, University of Pennsylvania
"The Frayed Compact: American Democracy, Higher Education, and The Movement For Community Engagement," David Scobey, University of Michigan
Comments: John Saltmarsh, University of Massachusetts-Boston
Comments: Jan Liss, Project Pericles

5:30 - 6:30

Roundtable: The Public Responsibilities of Higher Education
Moderator: Andrew Delbanco, Columbia University
Nancy Cantor, Rutgers University-Newark
Ira Harkavy, University of Pennsylvania
Daniel R. Porterfield, Franklin & Marshall College
Judith Shapiro, Teagle Foundation
Roosevelt Montás, Columbia University
Concluding Remarks: Casey N. Blake, Columbia University

6:30 - 8:00

Reception
The Center for American Studies gratefully acknowledges the support of the Jack Miller Center  for this conference.
Directions to Faculty House
To enter Faculty House, walk through the gates on the north side of West 116th Street between Amsterdam Avenue and Morningside Drive. Cross Wien courtyard and follow the path around to the right. Faculty House is the last building on the right. Download complete directions by car, subway, or bus.